Renaissance castle, 18th century gardens,
exceptional natural surroundings and lots more.
Freÿr Estate invites you to revitalize you
in the heart of a jewel of history, culture and nature.
WELCOME
Nestling in a meander of the Upper Meuse River, facing cliffs carved out by the river, the château and gardens of Freÿr form an elegant ensemble in a majestic decor that has been officially recognised as 'Exceptional Walloon Heritage'. Among the many famous people to have been attracted by the charm of Freÿr are Louis XIV, Stanislas Leszczynski, Marie-Christine of Austria and Prince Naruhito of Japan.
Freÿr has gracefully witnessed the lives of 20 generations of men and women who have cared for, embellished, extended, re-built and restored it, but without ever leaving it. The gates to the estate were opened to the general public in the spirit of sharing a family home as well as a place of culture and well-being.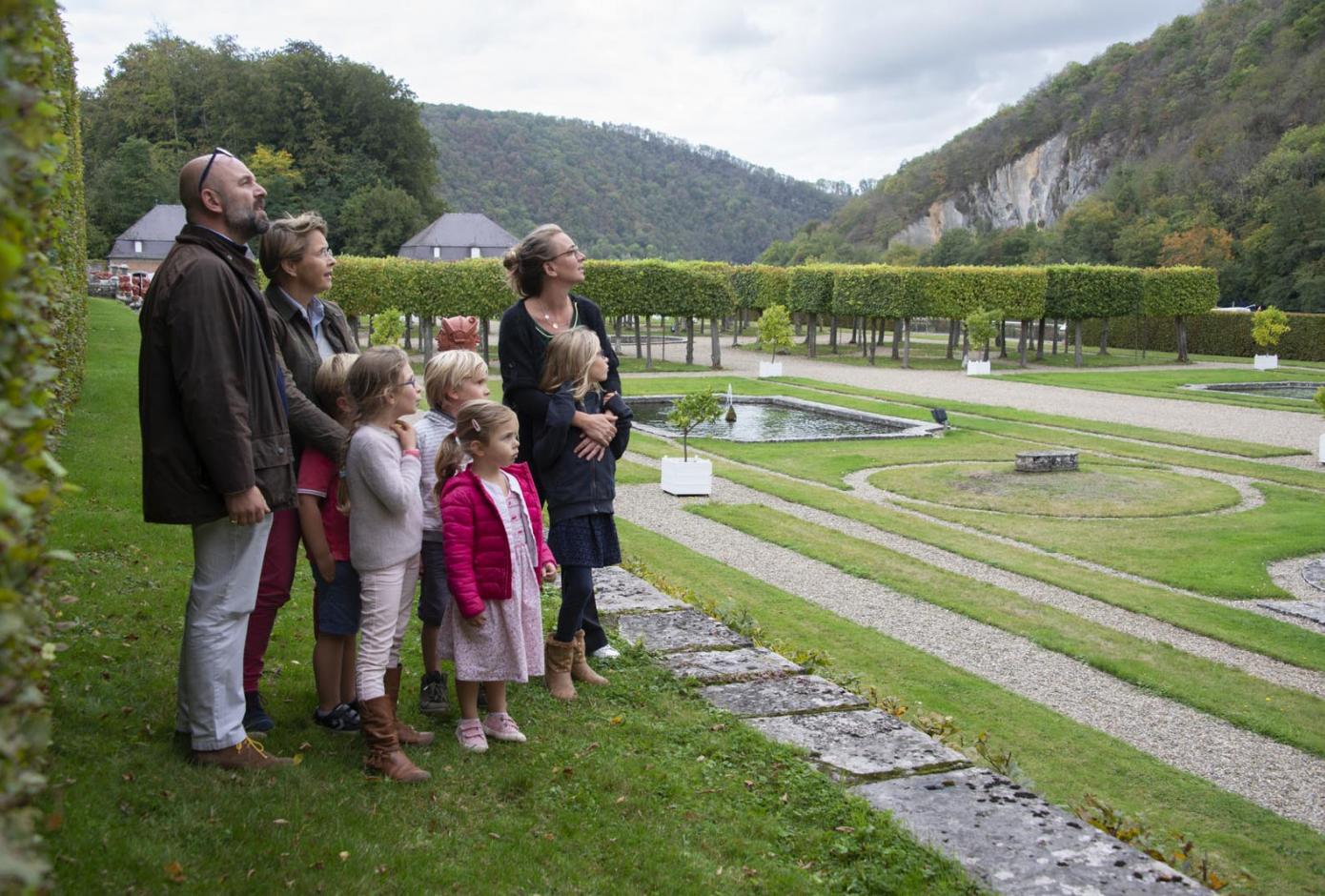 Enjoy an unforgettable afternoon at Freÿr Castle.
Timetable
From March 29 to June 30
Saturday, Sunday & public holiday
from 11 a.m. to 5 p.m.
From September 1 to November 10
Saturday, Sunday & public holiday
from 11 a.m. to 5 p.m.
From July 1 to August 31
Tuesday to Sunday & public holiday
from 11 a.m. to 5 p.m.
Last arrival: ¾ hour before closing
For groups, open during the whole year upon booking.
Rates
10 € Adult.
8 € Senior, adolescent, student.
8 € Group with at least 20 participants or ready to pay 160 €.
Free Children (up to 12 years) when coming with their parents.
Services
Parking for busses, autos, bikes.
Mooring for boats.
Fresh drink & coffee dispenser during the season.
Souvenirs, books and postcards.
Dogs allowed on a leash only in the gardens.
Drones prohibited
Space provision
Access & Mobility
Freÿr is delighted to welcome all visitors. However, for persons with reduced mobility, there are certain limitations to what is possible in a listed historical residence and its gardens. The ground floor of the château and the lower garden are easily accessible to everyone. The first floor, on the other hand, is only accessible by the staircase and there are the difficulties of steps, sloping gardens and lawns in the upper garden.
GUIDED TOUR
Visitors with a smartphone can download a free guided tour to the château. There are also printed panels giving general information around various parts of the château.
Guided visits can be organised on request.